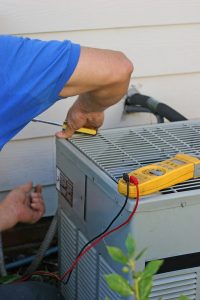 We were thinking of titling this post "This One Weird Trick Can Help You Avoid the Majority of AC Repairs!" But that was a bit too "click-baity," and what we're going to tell you here isn't a "trick" or even remotely "weird." It's an important basic service that many homeowners overlook or forget about, and that's why numerous AC malfunctions occur that shouldn't.
This not-weird non-trick is called annual air conditioning maintenance. Any worthwhile HVAC contractor will tell you that professional AC maintenance is required each year. The US Department of Energy agrees. This yearly service has so many benefits for air conditioners, and one of them is the prevention of repairs.
How Maintenance Stops Most Repair Problems
We not only experience hot summers here in Katy, but warm weather throughout the year. That means any AC system sees a heavy amount of use. All the stress on an air conditioner can lead to malfunctions. One of the goals of maintenance is to reduce the effects of wear and aging on an air conditioner, and that helps to prevent repairs.
The majority of repairs any air conditioner requires during its service life come from neglect. That means that thanks to professional maintenance, your AC will experience 50–85% fewer repairs over its lifetime. Think of how much money that saves you, as well as the greater convenience of not having to call for emergency repairs and then sit in an overheated house waiting for help to arrive. 
During maintenance, our technicians perform several jobs that help to lower the chance of repairs. First, we make a careful inspection of the system that lets us see if there are any small problems that may lead to repairs down the line. Often we can correct them on the spot and not need to schedule an actual repair. We then lubricate all moving parts that need it, check the refrigerant pressure to see there are no leaks, clean the coils, check the fan alignment, and more. 
The Additional Benefits of Maintenance
Stopping repairs is only one part of what maintenance does for an air conditioning system. Regular maintenance also…
Keeps an AC working at its best energy efficiency

Extends equipment life

Maintains the manufacturer's warranty

Provides you with peace of mind all summer long
Professional maintenance is, all around, the best service you can have for your home comfort!
The Safety and Efficiency Cool Club
We offer AC maintenance in Katy, TX through our Safety and Efficiency Cool Club. When you enroll in the Club, you'll receive regular service for your air conditioning system plus great members-only perks:
Discounts on repairs

Priority customer service

Inflation protection

Agreement is transferable

No overtime charges

We call you to schedule tune ups
Spring is the time for AC maintenance, so speak to one of our team members today to find out more details about the Safety and Efficiency Cool Club.
At AC Comfort, Your Comfort Is Our Business! Call us today to sign up for the Safety and Efficiency Cool Club and schedule your spring AC maintenance.