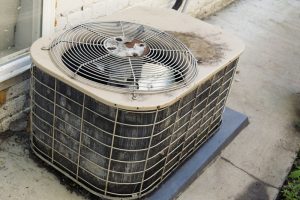 Air conditioning system replacement doesn't run on an exact schedule. The standard central air conditioner can last around 10 to 15 years. But depending on how much they work and how often they're serviced, they can run for shorter or longer. So to answer the question in the title, we need to first look at why you might be asking this question. We can then give you an idea of whether you're due for an AC replacement. The best way to get answers is to call our professionals to help you with your air conditioning in Houston, TX. 
Is your AC older than 10 years but still working well?
When you've got an air conditioner that's older than 10 years, it's smart to keep a close watch on it for signs that it's starting to fail. These signs include a rise in the cost to run it, an increase in repairs, or a drop in cooling performance. If your 10+ AC isn't giving you any problems and is still doing the job you need from it, you probably don't need to think about a replacement until it's older than 15 years.
Is your AC older than 15 years?
As we mentioned earlier, an air conditioner doesn't automatically need to retire when it's more than 15 years old. However, this is the usual upper range for performance, and we advise you to start considering a replacement—especially if you encountered any concerns, such as repairs, during the last two summers. Some ACs can make it to 20 years, but we don't recommend trying to push one to that extreme because of the risk of a complete system breakdown and a rise in operating costs. 
Do you not trust your AC to work when you need it?
This is often the reason people start to think about getting a new air conditioner. If your AC has become unreliable in the last few years, you either need to have it repaired before the summer or replaced. An air conditioner under 10 years might be able to be repaired and keep going for several more years. An older AC will likely need a replacement. 
Are your cooling costs getting higher and higher?
You can expect some increase over time in the cost to cool your home because of rises in energy prices. But if the increase in how much you pay to run the AC each summer is turning too steep, the problem may be that the system is starting to fail. Even an air conditioner that receives regular annual maintenance will begin to lose its efficiency in the last one or two years of its service life. Consider this rise in cooling costs as a warning your AC is at that point.
Spring Is an Ideal Time for a New System
If it looks like you need a new air conditioner, the time to have your current one replaced is right now. You don't want to wait for the extreme heat of summer to begin. Spring is a less busy season for HVAC professionals, so we can easily arrange for a replacement without much interruption to your comfort. 
At AC Comfort, Your Comfort Is Our Business! If you think you need a new air conditioning system, give us a call for the best help.