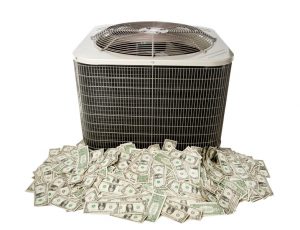 At this time of year, we urge all our customers to have their air conditioning system professionally maintained. It isn't a difficult job: all it takes is calling our office to schedule a convenient time. The actual job only takes about 1 to 2 hours, and afterwards our technicians will leave you with an air conditioner that's ready to take on the most extreme heat of the Texas summer.
The biggest benefit of having professional HVAC maintenance for an air conditioning system is the peace of mind it brings. You can relax knowing that your home's air conditioner has the best chance of making it through the summer without any interruptions. But there are so many benefits to regular preventive maintenance, and most of these benefits result in you saving money.
Here's How Maintenance Is an Investment in Savings
Regular maintenance with our professionals costs money, of course. But this cost is minimal when compared to how much the service saves you each summer, summer after summer. Below are a few of the ways these annual preventive tune-ups and inspections save on your cooling costs:
Higher Energy Efficiency: An air conditioner has a rating of how efficiently it turns electrical power into cooling power, SEER. The higher the SEER rating of your air conditioner, the more you can expect to save on energy use. But the effective SEER of an AC will drop if the system isn't regularly cleaned, adjusted, and tuned-up. The efficiency may decline by 25%, meaning you'll pay 25% more to run the AC than you should. Maintenance will keep the AC at 95% of its original efficiency rating for most of its service life.
Fewer Repairs: Repairs cost money—and sometimes they can be so expensive that it's more cost-effective to replace the entire AC rather than to repair it. Maintenance fends off the majority of repairs that an air conditioner might need. In fact, it prevents 85% of them. Think of how much less you have to pay to fix the AC when it's regularly maintained.
Extended Lifespan: You'll need to have a new air conditioning system installed one day, since there's nothing that can stop an AC from gradually wearing out. But you want to postpone the replacement day as long as possible so you receive the best return on investment from your current air conditioner. Professional maintenance helps an AC system last as long as possible: a regularly maintained air conditioner has a lifespan average of 10 to 15 years. Without maintenance, that lifespan drops to 5 to 8 years—a substantial and expensive difference.
To arrange for air conditioning maintenance in  Katy, TX and the surrounding areas, join our Safety and Efficiency Cool Club. Being a member gives you further savings thanks to special perks: you'll receive a discount on repairs, no overtime charge, and the agreement is protected against inflation. You can also jump to the front of the service queue as a priority customer when you need repairs done. With our help, we can make comfort cost less!
Schedule an AC tune-up today. At AC Comfort, our customer's needs always come first!