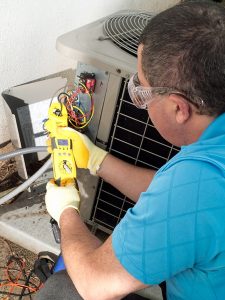 We are big believers in routine maintenance inspections and tune-ups for air conditioning systems. Any HVAC company should promote regular maintenance services because every technician with training knows how advantageous they are. But here in Katy, TX, we're especially aware of how much a hard-working air conditioner needs maintenance. An AC in our hot weather takes on a heavy work load each year.
We're focusing on a specific benefit of routine maintenance in this post, which is what it does for an air conditioner's lifespan.
How long can you expect a central air conditioner to last?
The modern air conditioner will usually enjoy a lifespan of between 10 to 15 years, with most warranties covering repairs and replacements for 10 years. It's not difficult to get an air conditioner to 15 years of solid service, even in the hot weather we experience in Texas. But it does require some work and planning. Not tough planning—all you really have to do is schedule maintenance each spring and keep up with any repairs the system might need.
An air conditioner may fail and require a replacement as early as 5 years into its service life if it isn't regularly maintained. Zero maintenance will, at best, deliver a 10-year lifespan. And if you're thinking, "Well that's not so bad. The AC will still be under warranty," we have some bad news. Most manufacturers' warranties for air conditioners require the system has annual maintenance or else the warranty is voided. If your AC isn't well cared-for, you may end up paying for the entire cost of an early replacement.
How maintenance extends equipment life
What are the magical secrets of professional maintenance that give an air conditioner a long service life? It's no elixir of eternal youth, but rather good ol' diligence from experts:
The inspection part of maintenance examines an AC's components to find where trouble may be starting. The technicians can then fix the issue before it places strain on the cooling system that will shorten its service life (as well as lead to extra repairs).
Technicians clean the air conditioner to remove the dirt and grime that place additional friction on moving parts and cause it to age quicker.
The motors that power the compressor and fans in an AC can suffer the most stress over time, and maintenance technicians keep these parts lubricated so they last as long as possible.
Technicians check on refrigerant pressure to make sure the system isn't losing refrigerant to leaks. A drop in refrigerant is one of the quickest paths to catastrophic compressor failure.
We'll help your air conditioner serve your home for many years
Our residential AC services in Katy, TX cover all parts of a cooling system's service life, from the installation all the way to the replacement. To put the most amount of years between those two as possible, we deliver great maintenance through membership in our Safety and Efficiency Cool Club. Joining the club not only means AC maintenance, but heating maintenance during the year as well.
At AC Comfort, your comfort is our business! Join our Safety and Efficiency Cool Club so you can get started with air conditioning maintenance before summer.