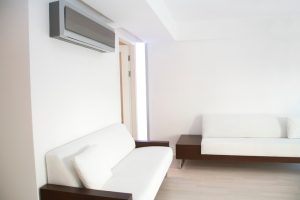 The spread of ductless heating and cooling systems, also known as ductless mini split heat pumps, has been a huge gift to many homeowners. Not every home can have a standard central AC and heater. Many older homes sometimes only have window AC units and no central heater. Ductless systems allow those homeowners to junk their old ACs and instead have cooling from wall-mounted units around the house, each of which connects through the wall to a single outdoor unit. When the cool weather arrives, these units switch over to heating in a snap.
Below are a few of the best uses for a ductless heating and cooling system installation. If you find yourself nodding at one or more of these, call us for ductless HVAC services in Katy, TX.
Outfitting an older home without any ductwork
We just mentioned this one above, and we want to stress how beneficial it is to eliminate window ACs. They block windows, they're inefficient, loud, and can make your house less secure. A ductless heat pump gives you better cooling as well as a heating system—no need to modify your house.
Better heating for homes that use electricity only
Gas furnaces are the most popular type of heating system, and with the lower cost of natural gas they are a cost-effective choice. For homes with only electricity, heating using electric baseboard heaters or an electric furnace can get extremely expensive. Ductless systems have the heat pump benefit of using far less electricity to run. In fact, ductless systems are even more energy efficient than standard heat pumps.
To help with home remodeling
Got plans to revamp your house, such as adding on a room or making drastic changes to one of the floors? Trying to adapt an old central HVAC system to remodeling can be a big mess. You can bypass it with a ductless system. For example, use a ductless mini split for the add-on room. Or take out all the ductwork during the remodel and refashion the house with a full ductless system.
Heating and cooling hard to heat and cool spots
Your home probably has one room or one area that seems to always be the wrong temperature. Putting in a ductless mini split for that room provides a comfort solution for all around the year without having to extend out the ducts and upsize the older HVAC system.
Garages
If you use the garage as a workshop, you may find it gets uncomfortable in there because it's cut off from the HVAC system. A ductless mini split for the garage gives you whatever level of heating or cooling you need.
New, space-efficient home construction
For a "tiny home" or a standard home where you want to maximize space, a ductless system installation lets you skip having to deal with putting in ducts that take up valuable areas.
There are other uses for ductless systems—they're incredibly flexible installations. Our experts can help you find out if a ductless mini split heat pump is the comfort solution you're searching for.
At AC Comfort, your comfort is our business! Talk to us today to learn more about ductless heating and cooling.