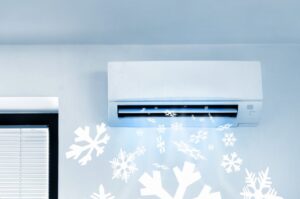 People are so used to central air conditioning systems that they imagine they're the only effective way to provide cooling to an entire house. Window air conditioners have obvious limits: in order to cool a house, they need to be placed in every room, and not every room has an available window that works with them. Window ACs also struggle to cool larger rooms. For example, a single window air conditioner won't do much for a living room.
There's another option for whole-house cooling, the ductless mini split heat pump. These systems use wall-mounted air handlers to send cooled (or heated) air directly into spaces. They connect through a small hole behind them in the wall to the outdoor cabinet that exhausts heat in the summer. 
Is installing a ductless system in Katy, TX for a house an effective method to keep cool during our hot summers? Or is it always inferior to a central HVAC system?