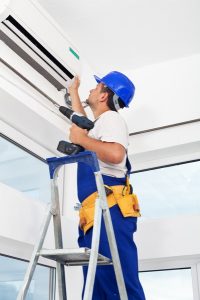 We offer services for a wide range of types of air conditioning in Houston, TX. For example, we install and service ductless mini split systems, which offer houses both cooling and heating without the need for an inch of ductwork.
One of the best reasons to have a ductless AC installed is because you live in an older house that wasn't originally constructed for central cooling and has no ductwork to hook a split system air conditioner to. If you're planning to build a house and don't want to deal with pesky ducts, you can design with a ductless system in mind.
Ductless Can Work in a Home With a Central Ducted System
"But I don't fit either category," you say. "My house already has ductwork in it for a central AC and heater. I'm not building an entirely new house. Is there any reason to consider a ductless system?"
Yes! Something people may not know about ductless mini splits is they can be used as an adjunct to a comfort system, not as the only system for a house. Going ductless isn't an all-or-nothing proposition. You may have a situation where adding a ductless mini split to your house that's already equipped with a central AC is useful.
The Room Addition
The first situation where going ductless can help a home with central heating and cooling is for room additions. If you're planning to expand your house with a new bedroom, office, den, or other extension, you'll face a dilemma with how to heat and cool it. Adding ductwork from the current ventilation system isn't easy. The AC and heater already installed were not sized to take on the extra living space. Extending the ducts will also drop air pressure through the ventilation system. You could have an entirely new AC and furnace installed. Or you could have a ductless mini split installed for the new room and not have to touch the rest of the HVAC system at all! It's better than a window AC: it won't block a window and it offers heating and cooling.
The Room Repurpose
You want to change the garage or attic to a living space; it's an affordable way to expand your house without a full room addition. But neither of these rooms is attached to the HVAC system because they don't require temperature control. As with the room addition, you can make it easy with a ductless mini split to have heating and cooling without affecting the rest of the ventilation system.
Hitting Those Hard-to-Cool-and-Heat Spots
Do you have a house where certain rooms never receive the level of comfort as the rest of the house? Such as a bedroom that always seems to be 10°F hotter in summer, no matter what? This is common, and one of the best fixes is to use a ductless system to apply the necessary power for cooling and heating. Since a single ductless system can have up to four wall units, you can tackle several different hot and cold spots with a single installation.
Talk to our professionals to learn more about how we can put a ductless mini split installation to work for you.
Comfort can cost less! Look to AC Comfort for the best in cost-effective air conditioning in Katy, TX.