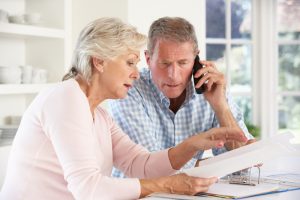 No.
But we need to offer more explanation than a single word—although if we've already convinced you with that one word, we've done our job. Call our experts and they'll be out to have your furnace fixed, fast.
There are some tasks you can do to help your furnace—but not fix it
When you notice the furnace not behaving the way it should, there are a few basic checks you can make to first ensure the problem isn't a straightforward issue that doesn't require fixing the furnace, just making some adjustments outside of it. For example, see if the thermostat has been set correctly. Check on the air filter in the furnace to see if it needs to be changed for a clean one. Look at the electric panel to find if one of them has tripped. This is troubleshooting, not fixing, and there's a big difference. Anything requiring opening the furnace cabinet and using tools—that's trying to fix it, and we recommend you never try it.
Why not? What's the harm?
Harm is the right word to use! The biggest reason you should never go DIY with a furnace repair is that it is potentially dangerous, especially with gas furnaces, which are the most common kind. In most jurisdictions it is illegal for anyone without a license to attempt to repair an appliance connected to a gas main because of the danger involved. A botched repair job can mean toxic gases entering the house or a risk of combustion.
But even electric furnaces can pose dangers. High voltage shocks can result in tampering with heating elements and other electric components in the furnace. An inferior repair to an electric system (such as a bad soldering job) can create a fire hazard later.
There are less urgent reasons why you should leave the repair work to professionals. Diagnosis of the problem is something that's difficult to do unless you're a trained professional. For every furnace malfunction, there are multiple possible causes behind it. A drop in heating power could be a lack of gas flow to the burners, leaks in the air ducts, clogged burners, or general furnace age. If you try to go it alone repairing a furnace, you may try to repair the wrong part.
Speed is also an issue with repairing a furnace. When a furnace problem puts your comfort in jeopardy during the winter, you don't want to wait long to have the heat restored. Attempting to do a repair on your own, even if you're somehow successful, will keep your house trapped in the cold for too long. Professional HVAC technicians will have the problem fixed fast and right.
Our Customers' Needs Always Come First
Handling HVAC in Cypress, TX is our profession, and we wouldn't be in it in the first place if we didn't want to help people enjoy comfort and health in their homes. We have NATE-certified technicians who can see you have the furnace repair necessary to restore your comfort—and we'll do the job right the first time.