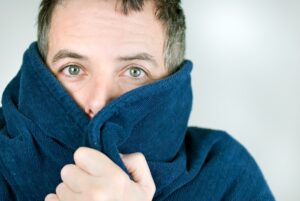 We've been fortunate here in Katy not to have gotten the worst of the cold that struck much of the state last week, although we still had chillier days than we often get. But this deep freeze in February has probably put your mind on your heating system. You may be wondering: "Can my heating system tolerate another major cold snap?"
We're glad you're asking this question, because preparation is the key to making it through weather extremes. You're accustomed to worrying about your AC getting through the intense summers, so let's now turn this attention toward your heating system.
Do you have central heating at all?
If you heat your home with wall heaters or maybe portable space heaters, you'll discover this is inadequate when the temperatures plunge. This type of heating is fine when there are only occasional cold days because you can dress a bit warmer and stick close to the rooms with the heaters. And if you have a fireplace, that's a nice addition—it'll go from a luxury to a real heating system.
But we recommend you have central heating installed. If you already have ductwork in place for the air conditioning, it isn't difficult to have our Houston, TX, HVAC pros install a central furnace to use the same ventilation system, either gas or electric depending on the fuel source you have access to. If your house has no ducts, then the best option is to have a ductless mini split system installed. This system works through individual air handlers installed in the rooms which all connect to an outdoor unit. (Ductless systems also work as ACs.)
How old is your heating system?
You have a central heating system, like a gas or electric furnace or a heat pump. If you aren't certain how old it is, this is important to find out. You can locate the manufacture date on the unit, or you can use the model and serial number to find out—just call us and we can decipher the numbers to give you the manufacturer's date. If the heating system is over 15 years old, we recommend having us come out to examine it and see if it's ready for a replacement or if it's still good for a few more years.
How recently has the system needed to be repaired?
Frequency of repairs is a major warning of an unreliable system. You shouldn't need to have it repaired every year, and if the previous repair was as recent as last season, that's a reason to be cautious about it's performance and have experts examine it. 
Has the heater received annual maintenance?
Regular professional maintenance done each year is key to keeping a heating system operating reliably. Be honest with yourself about the maintenance record: have you skipped a few years? Never gotten maintenance at all? If the heating system has missed multiple years, you have good reason to think it might fail on you when you need it. We recommend getting a professional opinion on repairs or replacement ASAP.
At AC Comfort, your comfort is our business! Call us to find out what you can do to make your heating as reliable as possible.