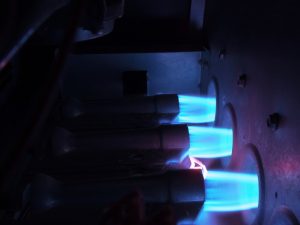 We get extensive use from our home air conditioning systems almost around the year in Katy, and it's important to ensure an AC is in the best possible condition considering all the work it has to do.
Heating systems like electric furnaces don't get anywhere near that amount of work. But most homes have a heater of some type, and when the cool days of winter come around, they'll need to be able to turn on and run reliably.
But reliably doesn't necessarily mean a heater won't start running up tremendous bills. This is a tricky part about heating in Katy, TX—managing to stay warm when necessary, but without having to pay too much to do it. Below are a few ways to save with your heating during winter.
Remember to Have Maintenance for the Heating System
This is a priority, no matter how much you use your heater. Air conditioners and heaters both need professional inspections and tune-ups once a year. For heaters, fall is the best time to schedule it, but in our warm climate it's not too late to have it done in early winter (i.e. now). Maintenance takes care of cleaning and adjusting the heater so it functions at its highest energy efficiency. It doesn't only take work stress to affect a heater's energy efficiency; a buildup of dust and dirt inside it during the summer also takes its toll. If your heater misses maintenance, it will start costing on average 5% more to run each year—and it isn't likely to last for long either.
Regularly Change the Air Filter
Most homes have either a furnace or a heat pump to provide heat. Both of these systems have air filters on their cabinets or behind the grill of the return air vent. This filter protects the interior of the cabinet from damage due to dust and other debris coming in through the return ducts. After only a few months, the filter will clog up, and this causes strain on the blower motor and a spike in utility bills. We recommend changing the filter every 1 to 3 months, depending on filter strength. The AC uses the same filter, so the clogging can lead to a serious increase in comfort costs.
Lower the Thermostat When It's Cold
"Wait, what?" We know this sounds like the opposite of what you should do. But what we mean is you shouldn't push up the thermostat to a high setting when the weather cools down. Setting the thermostat higher makes the system run longer, not provide more heat. You'll end up spending a lot more to run the system while making the house too hot. We recommend setting the thermostat at around 68°F, which makes the heater run less and slows down the speed heat leaves the house. You may need to wear slightly warmer clothing, but you can save around 25% on heating costs compared to setting the thermostat in the 70s or higher.
At AC Comfort, we know Comfort Can Cost Less! Speak to us today to arrange for heating maintenance or other services you may need.