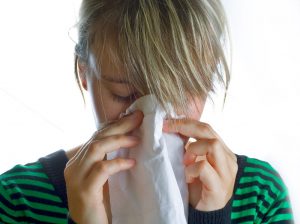 Beating allergy season—which is on its way—can be done in multiple ways. For example, vacuuming your house more often eliminates much of the excess dust that triggers allergy and asthma problems.
An HVAC contractor also has ways to protect your household from allergy attacks. The HVAC system circulates air through your house, and it can be a source of the spread of germs, dust mites, pollen, dander, and mold spores. With the right indoor air quality equipment in place, an HVAC system can turn into a force to stop allergens. Trust our comfort pros to find the best way to make your home healthier this spring.
Air Filtration Is the Starting Point
There's an air filter already on your HVAC cabinet, but it isn't for indoor air quality. It stops contaminants from entering the cabinet and harming internal components. For actual improvements to IAQ, you need to have special filters installed. The mechanical filters use mesh to trap larger particles in the air. An effective filter can eliminate more than 90% of allergens. Professionals can pick the right strength filters so you don't end up with a filter too thick for proper airflow through the ventilation system.
Air Purifiers Bring Extra Power
Many harmful allergens are small enough to slip through the mesh of all but the thickest HEPA filters. Because HEPA filters are too powerful for a residential HVAC system, we recommend pairing filters with air purifiers. These electronic air cleaners use ionization to remove the tiniest particles that filters won't catch. The right match of filters and purifiers will remove 98% of unwanted particles.
Slay the Worst Allergen Triggers With a UV Air Purifier
Mold spores, viruses, germs, bacteria, various microbes … ick, you don't want any of them in your house. No purifier does a better job at eliminating them than UV germicidal lights. The ultraviolet lights in a UV air purifier target organic particles in the air and kill them or make them inert. A UV purifier creates healthier air without using chemicals.
You Can Also Stop Mold Trouble With Humidity Control
A UV air purifier isn't the only way to keep away mold. A major source of mold growth is humid conditions. If your house is often too humid (relative humidity higher than 60%), you can put a stop to it with a whole-house dehumidifier. A Sugar Land, TX, HVAC contractor can integrate the dehumidifier into the HVAC system so it won't interfere with the operation of the air conditioner and make the air too dry. A dehumidifier not only stops mold growth, it helps with better comfort around the house. You can expect to run the AC less often when the humidity is balanced.
We Will Find Your Perfect IAQ Device Allergy Solution
Too many options? No need to fear—we're the pros who can find the air quality devices to clean and filter your air. Everyone in your household will thank you for making allergy season easier to deal with.
At AC Comfort, your comfort is our business! Schedule an appointment to find out more about our air purification and filtration options.