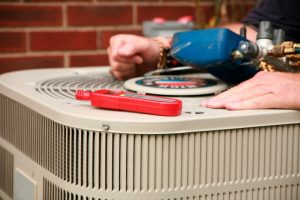 Ah yes, another winter season is almost upon us here in Katy. And that means … well, plenty more warm weather mixed in with cooler days. Even at the coldest, our winters still hover around 60°F during the day, and temperatures in the 80s still can swing by.
Which is a long way of saying you may need air conditioning service in Katy, TX during the next few months, not just heating service. We're here to help—we believe comfort can cost less, and we'd like to prove it to you when you need assistance keeping your home cool through any season. Below are a few of the air conditioning services you might need our help with.
Fast AC Repairs
No matter the time of year, it's never a good idea to shrug off signs an air conditioning system isn't working at its best. The sooner you move with calling for repairs, the easier and less expensive the problem will be to fix. So watch for …
Odd grinding, clanging, hissing, or other sounds from the cabinets
Strange smells from the vents
The compressor turning on and off rapidly during an hour
Hot spots in rooms
Electric bills much higher than usual
Duct Cleaning
Yes, this is an air conditioning service—the ducts that transport the cool air from the AC to the rooms need to be clean to avoid placing resistance against airflow. If you haven't had the ductwork cleaned within the last five years, you're probably paying too much to run the air conditioner, and you're also blowing around extra dust, lint, and other pollutants. Our team can clean your ducts fast and thoroughly.
An Air Conditioning Upgrade
If you're contemplating making a major upgrade to your air conditioning system by installing a new condenser or replacing the system entirely, winter is a great time to schedule the job. You won't have to worry about a seasonal crunch and can take your time considering new options. We install many types of air conditioners, including ductless systems (excellent choices for new home construction), heat pumps (cooling and heating taken care of in one installation), and evaporative coolers (energy savers that use water to cool the air rather than refrigerant).
Installing Heat/Energy Recovery Ventilators
If you'd like to enjoy fresh air in your home without opening the windows to allow in heat with it, and energy of heat recovery ventilator is an ideal installation. These systems pre-cool air entering the home so your AC doesn't have to do as much work. They work in cold weather as well.
Maintenance
We recommend having professional maintenance done in spring for your air conditioner, since this helps prep it for the heaviest workload of the year in summer. But, if you missed scheduling your AC maintenance in spring, please don't skip it entirely for a year. The consequences for the air conditioner's operation can be steep, and you may end up needing to replace the system early. There's nothing wrong (and many things right) with signing up for maintenance now for your AC. And we can also get your heating maintenance done as well.